マーク・カスタム(Mark Custom / Mark Records)社長のMarkさんから沢山プレス用のリリース資料を頂いたのですが、過去数年分とこれからの分がありましたので、
とりあえず今年の秋以降のリリースでまだWind Band Pressで紹介していないものや、
まだ日本に情報がないので今後のリリースだろうと思われるものをご紹介します。
(収録曲については資料が曲名のみのものもあります)
すでに盤かMP3が買えるようになっているものはリンクを貼っておくので、
もし「ノーチェックやったで!」というものがありましたら是非買ってみてください。
---
Ensemble: West Chester University Wind Ensemble and Concert Choir
Conductor: Andrew Yozviak and David P. DeVenney
Title: Like a Moth to a Flame
Label: Mark Records
Catalog No: 51904-MCD
1. Moth:Viet Cuong 8:20
2. Riff Raff:Ryan George 8:51
3. Huntingtower, Ballad for Band:Ottorino Respighi 6:39
4-8. Suite Francaise:Darius Milhaud
I. Normandie 1:46
II. Bretagne 4:34
III. Ile de France 1:57
IV. Alsace-Lorraine 4:19
V. Provence 3:07
9-13. Mass:Igor Stravinsky
I. Kyrie 2:32
II. Gloria 3:49
III. Credo 4:24
IV. Sanctus 3:32
V. Agnus Dei 2:41
---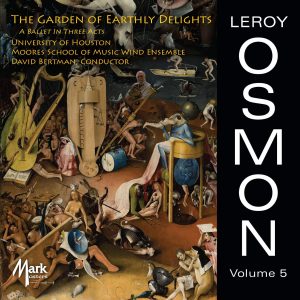 Ensemble: University of Houston Moores School of Music Wind Ensemble
Conductor: David Bertman
Title: The Music of Leroy Osmon, Vol. V: The Garden of Earthly Delights
Label: Mark Records
Catalog No: 51965-MCD
Composer:Leroy Osmon
1. Introduction: The Third Day of Creation [9:17]
Act I: The Garden of Eden
2. Scene 1: The Creation of Adam and Eve [3:49] 3. Scene 2: The Black Serpent Curls [3:12] 4. Scene 3: The Predatory Beast [4:00] 5. Scene 4: Eden, On the Eve of Passing [1:37]
Act II: The Garden of Earthly Delights
6. Scene 1: In the Days of Noah [3:45] 7. Scene 2: Young Maidens Embrace Lust and Eroticism [2:46] 8. Scene 3: Dance of the Lustful Inhabitants [2:01] 9. Scene 4: The Violation of Innocence [4:16]
10. Interlude [1:03]
Act III: Hell
11. Scene 1: Dance of the Perverted Love and Lust [5:14] 12. Scene 2: Eternal Dance of Death [2:12] 13. Scene 3: Dance of Vanity [2:01] 14. Scene 4: The Dreamer of Hallucinating Nightmares [6:48]
---
Ensemble: UTEP Symphonic Winds
Conductor: Ron Hufstader
Title: Promising Skies – The Music of Robert W. Smith, Volume I
Label: Mark Records
Catalog No: 52131-MCD
1. Aces 7:14
2. Hope 3:37
3-5. Teutonic Tales
I. Demon Dance 6:33
II. Freya 3:14
III. Thor's Hammer 5:23
6. Twelve Seconds To The Moon 11:42
7. Blue 2:43
8. Promising Skies 13:13
───────────────────────────────
---
Ensemble: Western University Wind Ensemble
Conductor: Dr. Colleen Richardson
Title: Explorations
Label: Mark Records
Catalog No: 52250-MCD
1. Instinctive Travels:Michael Markowski 7:29
2. Variations on A Theme by Robert Schumann:Robert Jager 9:37
3. Crossing Parallels:Kathryn Salfelder 7:16
4-6. Ontario Pictures:Howard Cable
I. Downbound from Thunder Bay 3:18
II. Point Pelee 3:02
III. Old Fort Henry 2:33
7. Canyons:John McCabe 13:32
8. Zion:Dan Welcher 10:18
---
Ensemble: The Florida Gulf Coast University Wind Orchestra
Conductor: Rod M. Chesnutt, conductor
Title: Landmarks
Label: Mark Records
Catalog No: 52282-MCD
1. American Fanfare:James Stephenson 1:55
2. Pacem: A Hymn for Peace:Robert Spittal 3:46
3. Turbulence for Tuba and Winds:Bruce Broughton 5:57
4. Dionysiaques:Florent Schmitt 10:33
5-8. Paris Sketches:Martin Ellerby
I. Saint-Germain-des-Pres 2:57
II. Pigalle 3:20
III. Pere Lachaise 3:35
IV. Les Halles 3:57
9. Gone:Scott McAllister 8:59
10. Jug Blues and Fat Pickin':Don Freund 8:34
---
Ensemble: The Mana Quartet
Title: Vide Supra
Label: Mark Records
Catalog No: 52288-MCD
1. Portrait of My Dead Brother:Kevin Villalta
2. Constructions for Julie Mehretu:Everette Minchew
3. Vide Supra:Anthony J. Stillabower
Saxophone Quartet:Stephen Dankner
4. I. Molto moderato
5. II. Andantino giovale
6. III. Adagio – allegro molto
7. IV. Recitatives
8. V. Presto meccanico
---
Ensemble: Marc Reed, Trumpet
Kristin Jonina Taylor and Bryan Stanley, Piano
Title: Gone, But Not Forgotten
Label: Mark Records
Catalog No: 52291-MCD
1. Aria et Marcato:Henri Vachey 4:05
Sonata for Trumpet and Piano:Burnet Corwin Tuthill
2. Mvt. I – Allegro ben Marcato 6:28
3. Mvt. II – Slowly 3:53
4. Mvt. III – Rondo Vivace 4:36
5. Song for a Friend:Kevin McKee 7:01
Concerto No. 2:Charles Chaynes
6. Mvt. I – Robuste 9:21
7. Mvt. II – Lento 8:34
8. Mvt. III – Sombre, agite 5:57
Cameos:Edward Gregson
9. Intrada 1:13
10. Serenade 1:28
11. Canon Dance 1:17
12. Alla Marcia 1:21
13. Song with Variation 2:39
14. Danse Macabre 2:11
15. Paean 2:40
---
Ensemble: University of Texas Arlington Wind Symphony Chamber Winds
Conductor: Douglas Stotter
Title: Serenade
Label: Mark Records
Catalog No: 51930-MCD
Ladder to the Moon:Michael Daugherty
1. I. Night, New York 12:27
2. II. Looking Up 9:31
3. Serenade for Winds, Op. 7:Richard Strauss 9:44
Serenade in D Minor, Op. 44:Antonin Dvorak
4. Moderato quasi Marcia 4:14
5. Tempo di Menuetto?Presto 6:02
6. Andante con moto 8:23
7. Allegro molto 6:23
Octet:Igor Stravinsky
8. I. Sinfonia 4:01
9. II. Tempo con Variazione 8:11
10. III. Finale 3:51
---
Ensemble: Vince DiMartino & Friends
Title: Made In Kentucky
Label: Mark Records
Catalog No: 51971-MCD
Disc 1
1. Concertpiece:James Curnow 6:32
2. Andante and Capriccio:Allen Vizzutti 6:48
3. Carnival of Venice:Walter Emerson 6:52
4. Be Thou My Vision:James Curnow 2:44
5. Concertino:Ernst Sachse 7:09
Collaboracao – Conglomerate:Mike Mower
6. Conglamerate 7:10
7. Samba 6:51
Concerto:John Barnes Chance(arr. J. Laverty)
8. I. Declamato – Vivo 5:11
9. II. Caloroso 4:42
10. III. Scherzando Marziale 3:45
Disc 2
Five Episodes for Trumpet and Brass Choir:Jeff Tyzik / Allen Vizzutti
1. Episode 1 1:18
2. Episode 2 3:54
3. Episode 3 3:02
4. Episode 4 2:44
5. Episode 5 4:53
6. Quiet City:Aaron Copland 8:53
7. My Old Kentucky Home:William Rimmer 7:13
8. Scherzo & Finale from Concerto in A Flat Minor:Bernard Fitzgerald 5:44
9. Aim for the Heart:Bill Armstrong 2:54
---
Ensemble: Modern Jazz Tuba Project
Title: Live at the Bottom Line
Label: Mark Records
Catalog No: 52233-MCD
1. Cherokee 6:42
2. Valvin' On a Riff 5:17
3. Skylark 3:23
4. Rene's Song 5:34
5. Cookin' at the Continental 4:47
6. Sandu 4:58
7. Summer Knows 6:28
8. Blue Rondo a la Turk 8:24
9. I-95 5:42
10. Oleo 4:32
---
Ensemble: University of Kentucky UK SaxCats, UK Mega-Sax & the UK Saxophone Quartet and the Osland Saxophone Quartet w/the Raleigh Dailey trio
Conductor: Miles Osland and Lisa Osland
Title: Christmas Saxophones: SaXmas
Label: Mark Records
Catalog No: 52130-MCD
1. Joy To The World
Nutcracker Suite
2. I. Overture 3. II. March
4. III. Dance of the Sugar Plum Fairy
5. IV. Arabian Dance
6. V. Waltz of the Flowers
7. Blue Christmas
8. Let It Snow, Let It Snow, Let It Snow
9. My Favorite Things
10. 'Twas The Night Before Christmas
11. God Rest Ye, Merry Wildcats
Christmas Jazz Favorites
12. We Three Kings
13. Cantique de Noel
14. Angels We Have Heard On High
15. 12 Days Of Christmas
---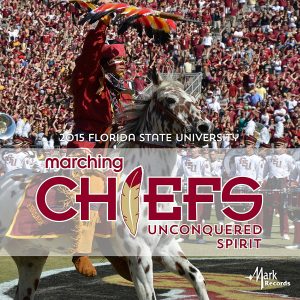 Ensemble: 2015 FSU Marching Chiefs
Title: Unconquered Spirit
Label: Mark Records
Catalog No: 52369-MCD
1. Come On and Go
2. Pregame Fanfare
3. FSU Fight Song (with Extended Intro)
4. Garnet and Gold March
5. Unconquered Spirit
6. "F-S-U" Cheer
7. Massacre/Musical Cheer/Field Exit
8. FSU War Chant
9. Seminole Uprising:Patrick Dunnigan
10. Go, Noles, Go!
11. Everybody Needs Somebody To Love:Solomon Burke / Jerry Wexler
12. King Tut:Steve Martin
13. Everlong:Dave Grohl
14. Don't Fear The Reaper:Donald Roeser
15. My Country 'tis of Thee
16. I'll Be There For You:Phil Solem / David Crane Marta Kauffman Michael Skloff / Danny Wilde / Allee Willis
17. Holding Out for A Hero:Jim Steinman
18. What is Hip?:Emilio Castillo / Stephen Kupka / David Garibaldi
19. Make Me Smile:James Pankow
20. Boogie Wonderland: Allee Willis / Jon Lind
21. Beetlejuice:Danny Elfman
22. Ghostbusters :Ray Parker Jr.
23. Thriller:Rod Temperton
24. Star Wars Opener:John Williams
25. Cantina Band (a la Sing, Sing, Sing)
26. Star Wars Closer
27. FSU, N-O-L-E-S
28. Here We Go, Seminoles
29. War Chant (with groove)
30. The Big Eight Sequence
---
Ensemble: The Georgia Woodwind Quintet
Title: Chroma
Label: Mark Masters
Catalog No: 51929-MCD
1-4. Quintet for Wind Instruments, Op.52 : Theodor Blumer
5-10. Wind Quintet No.1: Serenade for Five Wind Instruments : Gordon Jacob
11. Pastoral, Op.21 : Vincent Persichetti
12-15. Quintet No.1 for Woodwind Instruments : Alvin Elter
---
Ensemble: Mansfield University Concert Wind Ensemble
Conductor: Dr. Adam F. Brennan
Title: High Upon The Eastern Hill
Label: Mark Records
Catalog No: 52285-MCD
1. March of the Royal Welch Fusiliers:John Philip Sousa
2. Hymn to a Blue Hour:John Mackey
3. Bum's Rush:Donald Grantham
King Fishers Catch Fire:John Mackey
4. I. Following falls and falls of rain
5. II. Kingfi shers catch fi re
6. Armenian Dances No.1:Alfred Reed
Give Us This Day:David Maslanka
7. I. Moderately Slow
8. II. Very Fast
9. Providence:David R. Gillingham
10. The Melody Shop #1:Karl King
---
Ensemble: Western Kentucky University Wind Ensemble
Conductor: Dr. Gary Schallert
Title: Of Our New Day Begun
Label: Mark Records
Catalog No: 52287-MCD
1. Stubernic Fantasy
2. Postlude in F
3. Flaher
4. Of Our New Day Begun
5. Divertimento
6. Dawn
7. The Last Full Measure of Devotion
8. Slavonic Rhapsody No. 1
---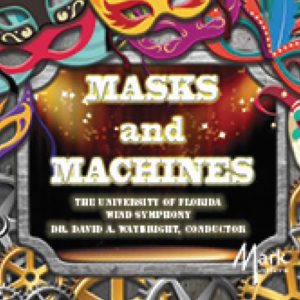 Ensemble: The University of FloridaWind Symphony
Conductor: Dr. David A. Waybright
Title: Masks and Machines
Label: Mark Records
Catalog No: 52466-MCD
Masks and Machines
1. I.
2. II.
3. III.
4. Only Light
5. Vientos y Tangos
Yiddish Dances
6. I. Khosidl
7. II. Terkische
8. III. Doina
9. IV. Hora
10. V. Freylachs
11. Affirmation
12. Crossing Parallels
13. Meditation at Lagunitas
14. Boogie and Blues
---
Ensemble: Drake University Wind Symphony
Conductor: Robert Meunier
Title: Confluences
Label: Mark Masters
Catalog No: 52493-MCD
1. Cityscape : Scott Boerma
After a Gentle Rain : Anthony Iannaccone
2. I. The Dark Green Glistens with Old Reflections
3. II. Sparking Air Bursts with Dancing Sunlight
4. Only Light : Aaron Perrine
5. Canzona : Peter Mennin
6. Yorkshire Ballad : James Barnes
7. Affirmation : Wayne Oquin
8. Blow, Eastern Winds : Joseph T. Spaniola
9. Mare Tranquillitatis : Roger Zare
10. Ermuntre dich, mein schwacht Geist : Johann Schop/J.S. Bach (arr. David Biedenbender)
11. Luminescence : David Biedenbender
---
Ensemble: Ohio University Wind Symphony
Conductor: Andrew Trachsel
Title: COLOR + LIGHT
Label: Mark Records
Catalog No: 51498-MCD
BRICH AN, O SCHONES MORGENLICHT (1734) 1:16
from Weihnachtsoratorium, BWV 248
Johann Sebastian Bach (1685-1750)
On a melody by Johann Schop, arranged by David Biedenbender
LUMINESCENCE (2009) 6:16
David Biedenbender (b. 1984)
MONK BY THE SEA (2015) 7:51
Michael Markowski (b. 1986)
THE DESCENDING BLUE (2013) 8:57
Daniel French (b. 1988)
CONCERTO FOR TROMBONE (2015) 16:10
Dana Wilson (b. 1947)
Lucas Rego Borges, trombone
World Premiere Recording
WINTER DREAMS (2015) 8:56
from American Gothic
Michael Daugherty (b. 1954)
SOUND AND SMOKE (2011) 13:39
Viet Cuong (b. 1990)
World Premiere Recording
---
以上、なかなか詳細な情報がないものが多いですが、マーク社長からのプレスリリースでした。